News
Subscribe to posts
Do you have general questions about SGOs, PDPs, evaluations, retirement, committees, health insurance, deadlines, supplies, etc? Come to the Union meeting on Wednesday, November 15, 2017 at 3:30 PM to discuss with other Union members and receive information from our Union officers.
North Bergen teachers are selfless, hard working, and dedicated individuals that put their students first. One example of this is North Bergen teacher, Karina Moreno. Mrs. Moreno is leading a very noble effort by helping a brave young student and her family through difficult times. If you would like to help please read about her student's struggle and follow the link below.
Sparkling, brown eyes... sweet, contagious smile…a cunning personality…
A tiny, beautiful girl walked into my first grade classroom this year and at first glance, she instantly stole my heart.
Daniela is a North Bergen resident, who is 7 years old, and has managed to maintain a positive outlook on life, despite what she has experienced at such a young age. Daniela was diagnosed with osteosarcoma (cancer to the bones) at the age of 6, and the cancer was so aggressive that it led doctors to amputate her right leg. She immediately began chemotherapy, and this brave warrior DEFEATED the monster. For 8 months, Daniela was in remission. In September of this year, Daniela relapsed and, unfortunately, the cancer began spreading to her lung. She has started Round 2 of her 6-month treatment and she is determined to slay this beast once more. Due to this aggressive treatment, she and her family need a miracle and, during this difficult time, we ask you for YOUR thoughts and prayers. Daniela's parents are now dedicating their days to staying by their daughter's side in the hospital, and this is now affecting the family's finances.
Now it is OUR turn to help our little gladiator.
Danielita is the kindest, warm-hearted, radiant burst of light that deserves all of the support in the world- emotionally and financially. Daniela is always thinking about ways that she can help others, and I would love to show her how people are there to also help HER.
Please help with continuing to put a smile on her and her family's face by contributing with anything at all.
Daniela will be able to conquer this cancer, and then…conquer the world.
https://www.gofundme.com/help-daniela-conquer-cancer
#DanielasArmy
#DanielasDreamers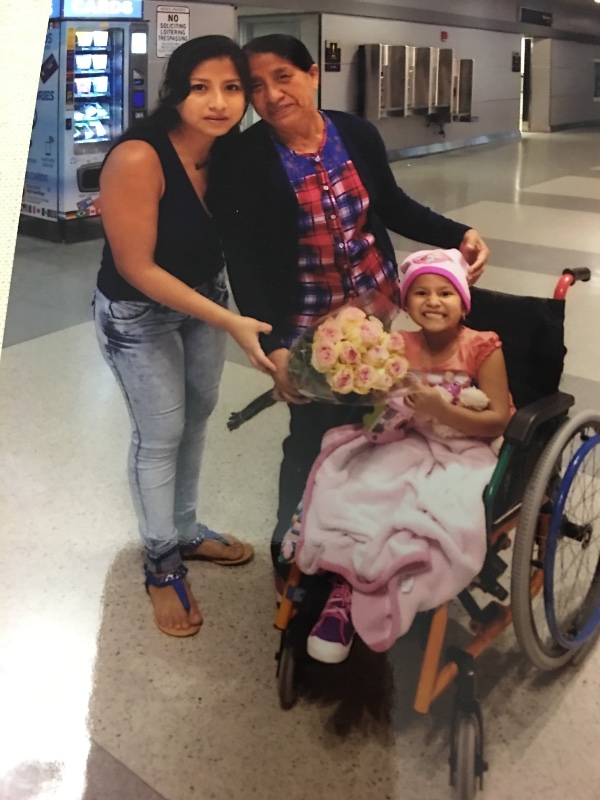 The NBFT's Vice-President, 
Laurie Troiano, was featured on AFTNJ's promotional video in support of
 Phil Murphy - New Jersey's newly elected governor! 
Laurie Troiano states that Phil Murphy "supports the public school systems and students". 
View the video to understand why she, and other educators, support Phil Murphy.



State Vice President Margaret Roberts, NBFT Vice President Laurie Troiano, NBFT President Elizabeth Lynch, and Corresponding Secretary Nelson Baiza attend the AFTNJ Delegate Assembly on October 30, 2017 at Rutgers Cook Campus Center. 
Protecting quality, seeking efficiency
  On January 1, 2018, the School Employees Health Benefits Program (SEHBP) will begin a new plan year.  There are no plan design changes or reductions in plan quality for 2018; you may keep your exact same plan if you wish, or you can change to a new plan during open enrollment in October 2017. While there are no plan design changes, the SEHBP will experience a 13 percent rate increase in the medical plans and a 13.3 percent rate increase in the prescription plans for active members.  Members who receive their health insurance through their district are mandated under Chapter 78 to pay a portion of the premium cost from each paycheck.  As a result, members will be absorbing some of the increased costs.
NJEA has representatives on the School Employees Health Benefits Commission (Commission) as well as the School Employees Health Benefits Plan Design Committee (Design Committee).  Both bodies have important roles in the functioning of the SEHBP – the Commission is responsible for overseeing the administration of the plan, while the Design Committee is responsible for monitoring the plan design and making any changes, when necessary.
Protecting quality of care, preventing cost shifting
For 2018, the Design Committee was approached by the state with recommendations for shifting additional heath care costs to employees in an attempt to save on premium costs. The changes that the state suggested would have lowered premiums slightly by requiring members pay more for their health care in the form of higher copayments, higher coinsurances, and increased deductibles.  This is referred to as cost-shifting and has long been opposed by NJEA because it hurts members and does nothing to deal with the underlying problem of skyrocketing health care costs.
Some of the suggestions from the state included replacing the current in-network system with a tiered network structure, which threatened to reduce members' access to their doctors or make visiting those doctors much more expensive. The state also proposed increasing the emergency room copayment, mandating generic prescriptions, eliminating certain brand name prescriptions and limiting out-of-network benefits for chiropractic/acupuncture treatment and physical therapy.  All of those modifications would have represented drastic changes to the benefit levels for members and resulted in cost-shifting to the employee.  Further, the state's actuaries estimated that implementing all of those proposed changes to the plan would have resulted in only approximately 4.7 percent savings – ultimately turning the 13 percent increase to about an 8.3 percent increase.
In reviewing the impact of the proposed changes, the Design Committee, including and NJEA's representatives, opted to keep all current benefit levels the same, because a member switching from NJ Direct 10 to NJ Direct 15 could save approximately the same amount in their mandated Chapter 78 insurance deductions while experiencing less impact on the cost of care and access to providers. Additionally, members who wished to maintain exactly the same benefit level had the option to do so.
NJEA believes such choices about health care coverage should be made by the individual employees, not mandated for everyone.  NJEA does not believe in cost shifting health insurance benefits.  Instead, measures should be taken to reduce the overall costs of care instead of shifting additional costs to members.
The State Health Benefits Program (SHBP), which insures state workers, has opted to make many of the proposed plan design changes that the SEHBP rejected.  Over the years, SHBP enrollees have seen a loss of Direct 10 benefits, the introduction of tiered networks, mandatory generic prescriptions, increases in out-of-pocket costs, and Medicare Advantage for retirees.  As a result of these changes, premiums are currently somewhat lower.  However, members are paying more at the point of care due to the cost-shifting.  Ultimately, we believe those efforts to reduce premiums through continual cost-shifting are unsustainable, temporary, and not an effective way to reduce the cost of care.  Without making drastic changes to the way health care is delivered, premiums will continue to rise no matter how much the SHBP or SEHBP cut benefits for subscribers.
Proactive measures to control health care costs
NJEA has led the way in recent years on efforts to reduce the cost of heath care. Both the SEHBP and SHBP have implemented measures that result in cost containment without compromising care and benefit levels.  In 2016, both plans put limitations on the use of compound medications that do not have a clinical benefit.  Prior to this modification, compound prescription costs were rising by nearly 200 percent each year.  The changes affected less than 2 percent of members and each of those members continues to have access to medications that are equally clinically effective.
At the same time, both the SEHBP and SHBP adopted the Direct Primary Care Medical Home pilot program for all members enrolled in SEHBP/SHBP PPO plans.  This program gives members and their dependents an enhanced primary care experience with physicians who knows them and will work with them to meet their health needs and goals.  There is little or no wait time in the doctor's office and enrolled members have 24/7 access to their physician via phone, secured email, and the health app.  This program is offered at no additional cost and there are no copays.  Members can try the program risk-free with no out-of-pocket expense.  Similar programs in other states have helped stabilize premiums and NJEA expects similar results as more members see the benefits of participating in that patient-centered approach.
Earlier this year, the SEHBP and the SHBP took the initiative in changing the way that the state handles bids for prescription drug coverage, implementing an electronic bidding process that greatly reduces costs. By streamlining bidding for prescription drugs and making those bids far more transparent, the state is expected to save $1.6 billion over the next 3 years.
Those three changes (limiting overuse of compound medications, patient-centered direct primary care, and electronic bidding for prescription drugs) are all ways to reduce cost without harming the quality of care or shifting additional costs onto employees.
NJEA will continue to advocate for affordable access to high quality health care for NJEA members.  NJEA will also continue to lead the way in advocating reforms that can help control the cost of health care for all New Jersey residents.
The North Bergen School District will hold a Dress Down Day on Friday, October 20, 2017 for the AFT's Project Linus. Project Linus is a non-profit organization that provides homemade blankets to children in need. The blankets are lovingly made by adults and children from all walks of life and many different sources. 

The North Bergen Federation of Teachers does not and has never engaged in local politics, including advising school personnel to buy or not buy a ticket to any local political event(s).

Join us in honoring teachers & staff who have been in the North Bergen school district for 5, 10, and 25 years. Congratulations!
Date: Thursday, November 2, 2017
Time: 4:00 PM - 8:30 PM
Price: $73.00* (per person). See your Union Representative by October 25. 
           *Prices are $68 for 5th Year Honorees
                             $63 for 10th Year Honorees

                             $0 for 25th Year Honorees (+1 guest, also free)
                             $73 for all other attendees

Location: Villa Almafi  - 793 Palisade Ave, Cliffside Park, NJ 07010 


(click on the image to view the full-screen version or for a printable version)
                                ER&D PROFESSIONAL DEVELOPMENT COURSE OFFERINGS
Sponsored by the North Bergen Board of Education and
The North Bergen Federation of Teachers
THE SCHOOL-HOME CONNECTION
This course shows the benefits of stronger ties between the school and home and provides effective ways for teachers and families to work together to improve student learning.
10 session course – 15 hours – 3 credits
Meeting Dates
September 19, 26
October 3, 10, 17,24
11/14, 21,28
12/12
Class begins Tuesday, September 19, 2017
Classes held at Kennedy School Room 302 3:45-5:15PM
Facilitator: Carol Toomey Send applications to Linda Neff at the Board Office by Tuesday, September 12, 2017. Participants will be notified by school e-mail.
Introduction to English Language Learners: Module 2 This course is targeted to mainstream Pre-k -12 educators of English Language Learners.   10 session course – 15 hours – 3 credits Meeting Dates October 10, 17, 24 November 14, 21 December 12, 19 January 2, 9, 16 Class begins Tuesday, October 10, 2017 Classes held at North Bergen Union office (7601 Kennedy Blvd) from 3:45-5:15PM Facilitator: Sharon Berman
Send applications to Laurie Troiano in NBHS by Thursday October
5,
20
17
Participants
will be notified by school e-mail.
Instructional Strategies That Work 10 session course – 15 hours – 3 credits Meeting Dates THURSDAYS  starting  September 21, 2017  - December 7, 2017 Classes held at McKinley School in Room 3 from 3:45-5:15PM Facilitator: Sean Medina Send applications to Laurie Troiano in NBHS  by FRIDAY September 15, 2017